Your Journey:
Please click on the map to choose your departure point and destination, then see the cost calculated below.

(if the map is too squashed, open map in a seperate window)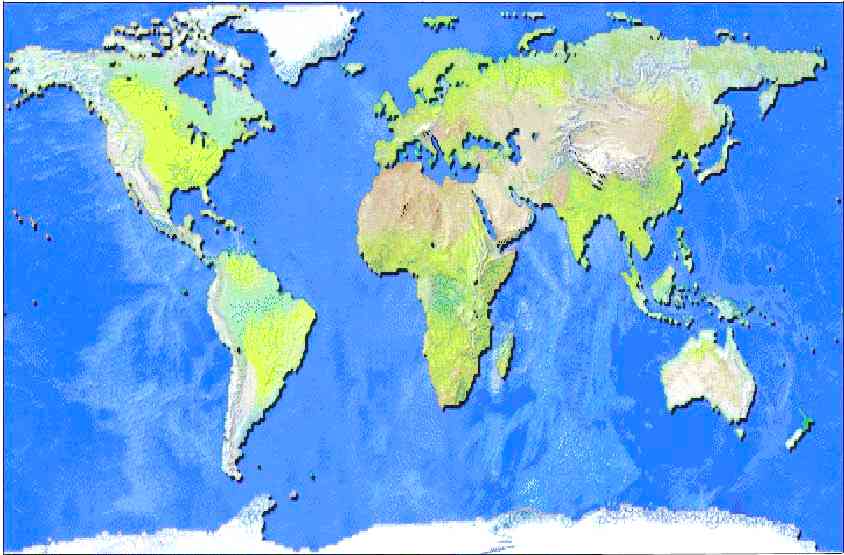 ---
---
---
---

More about carbon and climate /

Back to Map
---
How is it calculated?
Great circle distance: by trigonometry (accurate to <1%)
---
Fuel per passenger (Data for B-747).
Fuel = [7840 + 10.1 * (distance-250)] (*2 if return)
(7840 kg take off-climb-descent, 10.1 kg/km cruising).
Passengers, = 370 * [occupancy] (/1.5 if business)
---
Greenhouse warming:
CO2 = fuel * (44/12 * 156/184) (molecular masses)
Total warming effect of CO2,Ozone (made by NOx), water vapour and contrails is about three times greater than effect of CO2 alone
---

More info here or in the

"Climate Train" report /

Please suggest refinements /

Back to Map /

More about map below
---
About the script

The map and calculations of distance, fuel, warming, etc. use javascript and dynamic HTML. If there are script errors -don't worry, they will not harm your computer.
If you want to see the exact formulae for the calculations, see mapfunc.js. Look for the functions "calcdist", "fuel", "calchm", and "context".
---
What is a "Great circle?"

This is the shortest route between two points on the surface of the earth, and lies on a plane passing through the earth's centre. Flights usually lie along great circle routes, although national airspace restrictions, jet streams, etc., may also influence the route.
---

Back to Map

If you like this interactive tool, perhaps you would like to try the interactive Java Climate Model linking individual emissions to global temperature rise.
---
---