Report of the Climate Train

Journey by Train and boat from Europe to the UN Climate Convention in Kyoto,
November - December 1997

published by
Scientists for Global Responsibility
August 1998
---
Welcome to new online version of the "Climate Train" Report, which replaces the old "Climate Train" web pages. The content of the online report is identical to to that of the printed version -only the layout is slightly different, and a few web links have been added.

A few paper copies of this report are still available, printed in full colour with over 120 photographs and diagrams, and 64 A4 pages of text, price £15 including postage. Please contact the Scientists for Global Responsibility office.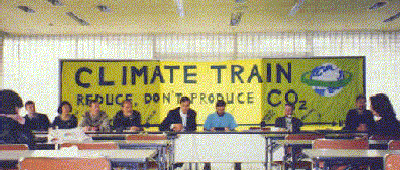 Since your browser does not support frames, you can either or continue to...

For online calculations of aircraft emissions of greenhouse gases, try the new web page "Flying off to a warmer climate"!